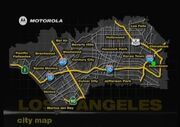 Los Angeles is a real-live city used in the True Crime: Streets of L.A. video game. The game features an extensive 240-square-mile (620 km2) re-creation of a large part of Los Angeles with most street names, landmarks, and highways. However, some users discovered there were unmarked neighborhoods surrounding the game. The player cannot enter these parts of town, as an attempt will respawn Nick back onto the nearest street in the game. However, there is a mod for the PC version which allows the player to enter the unmarked areas, which is also possible by doing a glitch which removes the white fadeout screen. There are also numerous vehicles that can be commandeered by the player.
Districts
Edit
Residents
Edit
Ad blocker interference detected!
Wikia is a free-to-use site that makes money from advertising. We have a modified experience for viewers using ad blockers

Wikia is not accessible if you've made further modifications. Remove the custom ad blocker rule(s) and the page will load as expected.