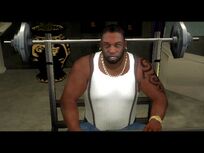 Isaiah "The King" Reed
grew up on the streets and was best friends with
Terry Higgins
. He grew into a notorious kingpin running a large portion of east coast crime but Terry chose a different path, and became involved in law enforcement. Even though their paths diverged, Terry and the King's respect and friendship never died, and when the King went to prison, Terry promised to look after his son,
Marcus Reed
, after becoming his mentor. Terry ushered Marcus into the Police Department and covered up Marcus' shady past. He's of Jamaican descent.
Isaiah runs his business from his prison cell, living a life of relative luxury and watching over his son's "strong arm of the law" as best he can, taking full advantage of Marcus' position as a cop.
Isaiah was voiced by Laurence Fishburne.
Ad blocker interference detected!
Wikia is a free-to-use site that makes money from advertising. We have a modified experience for viewers using ad blockers

Wikia is not accessible if you've made further modifications. Remove the custom ad blocker rule(s) and the page will load as expected.