5.2L V8 CoupeEdit
5.2L V8 Coupe is vehicle featured in True Crime: New York City.
The 5.2 V8 Coupe is based off of a 1969 dodge charger while also showing design characteristics of mid to late 70`s Pontiac GTO models,
Performance
Edit
The 5.2L V8 Coupe`s performance is the same on both regular and beater models included in True Crime: New York City they include desirable acceleration but has a mediocre top speed crash deformity is average as the car can withstand about 20 regular speed collisions and 8-10 high speed collisions without catching fire.
There are 2 different varients included in True Crime New York City there is a beater varient and a regular varient both maitaining the same performance and and crash deformity.
Most players dub it the "charger" as it has many charger characteristics
The beater and regular varients of the 5.2L V8 Coupe are the exact same design just with a "rust" type painjob and more exaust coming from the tailpipe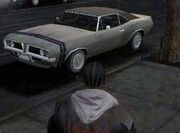 Ad blocker interference detected!
Wikia is a free-to-use site that makes money from advertising. We have a modified experience for viewers using ad blockers

Wikia is not accessible if you've made further modifications. Remove the custom ad blocker rule(s) and the page will load as expected.