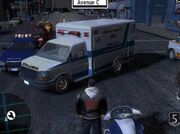 The 4.3L V6 Van is a van that appears in
True Crime: New York City
and as an ambulance in
True Crime: New York City
.
The 4.3L V6 Van replaces the 1992 Ford Econoline featured in True Crime: Streets of L.A.. The 4.3L V6 Van is based off of a Cheverolet Express van while taking some characteristics from a Ford Econoline and Dodge Ram Van
Performance
Edit
The 4.3L V6 Van is Rear Wheel Drive (Ambulance varient is All Wheel Drive) and has average handling along with an average top speed.
There is an ambulance varient of the 4.3L V6 Van featured in
True Crime: New York City
THsi varient has an enlarged back to transport pedestrians to hospitals this varient also features Rear Wheel Drive and has increased top speed and acceleration.