The 3.2 V6 Sedan is a vehicle that apperas in True Crime: New York City. The car is based on a Mercedes-Benz S-Klasse.
This car is quite fast and hard to control, like many vehicles in the game. It can be colo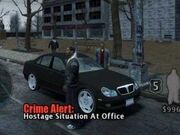 red in black, grey, silver and white.
Ad blocker interference detected!
Wikia is a free-to-use site that makes money from advertising. We have a modified experience for viewers using ad blockers

Wikia is not accessible if you've made further modifications. Remove the custom ad blocker rule(s) and the page will load as expected.